'IT'S ONLY AT SCHOOL THAT I GET TO DO SOMETHING LIKE THIS'
Penguin Patch: Christmas Shopping at school benefits everyone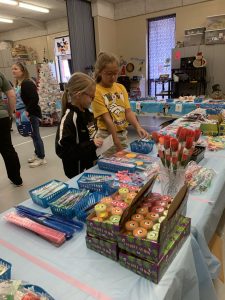 Christmas shopping isn't just for adults anymore.
Moss Bluff Elementary School students get to shop at the "Penguin Patch" this week for just the right Christmas present for friends and loved ones.
A fundraiser for the Parent Teacher Organization, the holiday shop is stocked with a variety of items ranging from 25 cents to $13. Slime and jewelry are top-selling items this year, Debra Mouton, shop coordinator and PTO vice president, said.
"Sometimes you can't talk kids out of what they want to buy. Doesn't matter if it's for mom or dad, they see it and they want it," she said.
Rowdy Partin, a fourth-grade student, shopped for his parents and siblings on Monday. The chance to spend $20 on his own was particularly exciting for him.
"It's only at school that I get to do something like this," he said. "She's (Partin's mother) not going to see what I get her this time."
Despite his excitement to shop independently, he added, "I'm probably going to end up telling her anyway. I can't wait."
Guy Champagne, a fourth-grade student, said he plans to add a little variety to his usual Christmas shopping this season. "The rings, I usually get that every year. But this year I won't. I want to be less predictable about what I'm getting them," he said.
Mouton has volunteered to coordinate the holiday shop for the last five years. "It's the easiest fundraiser ever," she said.
Working with Jenny's Penguin Patch Kid's Holiday Shop based out of Texas, the PTO is able to restock each day with overnight shipping of popular items. By the end of four-day sale, the group knows exactly how much profit was earned.
The Penguin Patched made more than $3,000 last year in profits and expects another successful year. "We spend it on teachers needs and for the kids. Whatever is needed, we try to help out," she said.