About Penguin Patch Holiday Shop
Penguin Patch Holiday Shop is a labor of love that started over 25 years ago when Kay, a former PTA/PTO President, was running a holiday shop for her daughter's school. That daughter, Jennifer, is now the head of our family-owned and operated business based in Fort Worth, TX!
Kay fell in love with watching kids light up as they selected presents for their friends and family. Empowering kids through the act of giving is what shapes the direction of the company to this day. We're so excited about the possibility of joining your community's holiday traditions and empowering your students to grow in generosity!
Penguin Patch Holiday Shop – Giving and Giving Back:
Penguin Patch Holiday Shop is a service project – but not just for the schools we serve. We're proud to be involved in our community and yours through several ongoing projects.
Clear the List – "Clear the List" is an annual event that we LOVE hosting every year at back-to-school! We select several teachers that have been nominated by their schools and students and we purchase everything that they've compiled in a wish list for their classroom. It's just one way that Penguin Patch can show appreciation for our incredible educators!
Sunshine Spaces – is a nonprofit organization committed to connecting our community. We do this through dream room makeovers for children battling life-threatening illnesses and their siblings.
Christ's Haven – Christ's Haven is a private placement residential group home that provides a warm, loving home where children in need of basic care can grow physically and emotionally to become productive citizens of society. Penguin Patch is proud to be a sponsor of this important organization and the work they do for the children of our community.
Books and Bags – Because of shop sponsors like YOU we've been able to donate over 4,000 backpacks to kids in need this year! We've also been able to do large-scale book donations to families affected by Hurricane Harvey and other natural disasters.
By working with Penguin Patch Holiday Shop, your impact stretches far beyond your campus. Thank you for your support!
Hi Amazing Volunteers!
"I'm Jennifer, the owner of Penguin Patch Holiday Shop! This is me running the holiday shop at my daughter's school along with my family. I am always looking for ways to make the  holiday shop more fun & easier than ever! As always, thank you for for supporting our small business!"
Happy Shopping!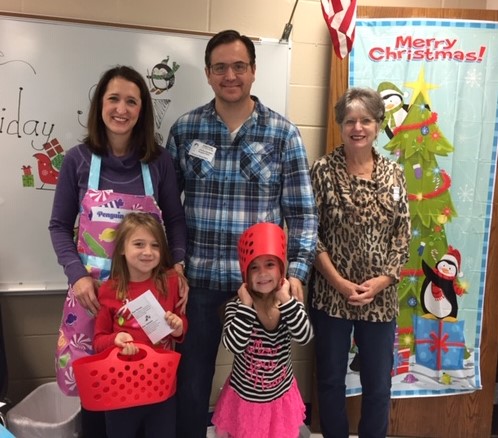 "Our goal is to make your job easier.  Our no counting inventory style shop allows your school to host a fun, safe and affordable place for children to shop for family. Children gain an understanding that giving to others is fun and rewarding."
All children's items have been tested and meet or exceed standards set by the Consumer Product Safety Improvement Act (CPSIA).  Kay and Jennifer are also members of the Association of Fundraisers, Distributors and Suppliers (AFRDS).