Summer Fun
Before having kids of my own, I used to wonder why moms get so excited about summer. I totally understand it now! Summer means not fighting with the kids to get ready, not packing a lunch every day, and not rushing to get the kids out the door and to school on time. Most importantly, summer means family time. A season to relax, enjoy and spend quality time with the ones that matter most to you. With summer being half gone, here are some ideas for fun things to do with your kiddos during the summer. I know I'm excited to check them out!
1. Have a family picnic
2. Go to a local splash pad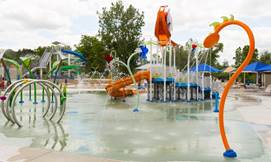 3. Take a road trip somewhere you haven't been
4. Visit your local fire station
Remember, we only have 12 summers with our kiddos, so let's make the most of it!