Easter Fun
Are your kiddos  ready for Easter?  What are some fun crafts you do with your kiddos for Easter?  Below are a few fun crafts the whole family can enjoy!
1. Coloring Easter Eggs
2. Lolly Pop Bunnies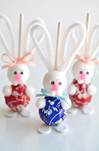 3. Plastic Easter Egg Flowers
Be sure to share your ideas and pictures with us on our Facebook page.
Happy Easter from all of us at the Penguin Patch Holiday Shop.